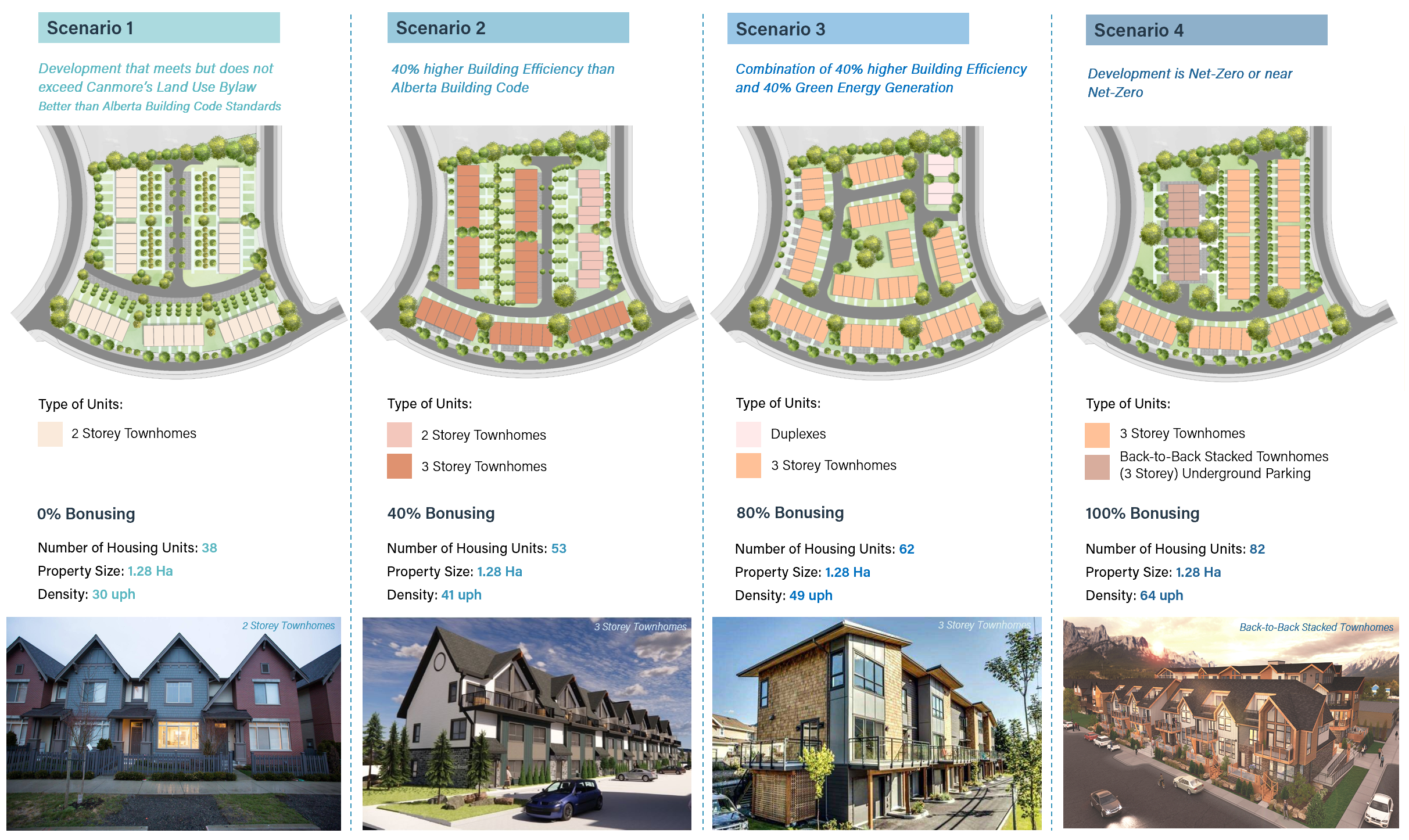 TSMV's innovative Bonusing Toolkit accelerates net-zero ambitions
By Chris Ollenberger
Climate action is important in Canmore. To do our part, TSMV has taken an innovative approach to ensure our Area Structure Plans (ASP) for Three Sisters Village and Smith Creek help push new development towards net-zero energy in advance of Canada's updated National Energy Code for Buildings being adopted and implemented in Alberta by 2030.
We heard clearly from the community that residents wanted to see our plans align with Canmore's Climate Action Plan. To do this, we have proposed a Bonusing Toolkit that incentivizes green building techniques and technologies to move residential and commercial buildings towards net-zero.
This system relies on setting a lower threshold for how many units and how much floor space can be developed to make building towards or to net-zero the most economical way to build. For example, the policy for Three Sisters Village caps units at 3,000 with the ability to develop up to 5,000 units only by incorporating more energy efficient development or renewable energy systems within each development. Smith Creek uses floor area ratio (FAR), and sets the cap at 50 per cent of allowable FAR.
With base densities in both ASPs set much lower than what can be built on a parcel of land, participation in the Bonusing Toolkit program is very advantageous to builders. The more sustainable building technologies the development incorporates, the more units that can build on a parcel of land. The maximum unit count identified within the ASPs cannot be achieved unless buildings are built to net-zero or very near net-zero. The minimum or base densities were specifically selected to ensure builders would benefit in building highly efficient and sustainable developments to limit impact from new development in TSMV on climate change.
The Bonusing Toolkit was inspired by best practice in other Canadian jurisdictions. This innovative approach was crafted to be a made-in-Canmore solution that incentivizes priorities found in Canmore's Climate Action Plan because there is a direct correlation between the percentage of community benefit to the allowable density bonus.
This toolkit was tailored to support the Climate Action Plan's goal to ensure 80 per cent of new development is built to a near net-zero standard and to have 30 per cent of the site's energy is produced by renewable energy systems by 2030.
At the top of this page is a site-specific example of how the Bonusing Toolkit will function on a typical townhouse site. Across the top are various scenarios on the same parcel in Three Sisters Village. Scenario One shows what happens if a builder chooses not to participate in the Bonusing Toolkit.
As you move towards the right across the infographic, the scenarios show increasing and varying levels of density based on how close to net-zero the development becomes. The image above shows the same parcel and the increasing density benefit to the builder as they incorporate higher energy efficiency for buildings and heat and energy production from renewables.
As the development moves towards net-zero, there is a corresponding increase in units that financially incentivize the future builder and provides a way to gain additional revenue to cover the increased costs of green buildings. The Bonusing Toolkit will also allow the builder to spread out those costs across additional compact units so that housing can remain affordable.
Current townhouse Land Use Districts in Canmore allow for between 30 to 67 units per hectare (UPH) for new developments. Base densities within the ASPs are capped at 30 UPH without participation in the Bonusing Toolkit program. As builders integrate sustainable building techniques and systems outlined in the Toolkit, they can utilize the site more efficiently and build more compact units to increase up to what would be the maximum density seen in a typical townhouse district today (67 UPH).
To achieve densities that are allowed in Canmore's current land use districts today, the future builder will need to build towards net-zero to have a density in TSMV like what they can build in all other areas of Canmore.
The Bonusing Toolkit was crafted to provide a non path-prescriptive route to net-zero, so builders can focus more heavily on building efficiency and/or energy generation through renewables. Each corresponding percentage that a building is more efficient or energy generation that is incorporated than a building constructed today in Canmore, the same percentage applies to the bonus to receive in additional floor space or units. Bonusing will happen on a parcel-by-parcel basis and allows the community to increase density direct proportion.
A builder may choose to integrate public art, building efficiency, and green energy generation to achieve the maximum bonus. For example, if a builder opts to include a 10 per cent public art contribution, 45 per cent building efficiency and 45 per cent green energy generation, they can receive 100 per cent of the bonus. The maximum would be the parcel's portion of the 5,000 unit maximum, where each unit above the 3,000 cap must be earned. This is how developments within Three Sisters Village and Smith Creek would be able to move beyond the cap for additional units as outlined in our policy, only by offsetting GHGs associated with additional development.
The Bonusing Toolkit is just one way TSMV's ASP's for Three Sisters Village and Smith Creek align with Canmore Climate Action Plan.