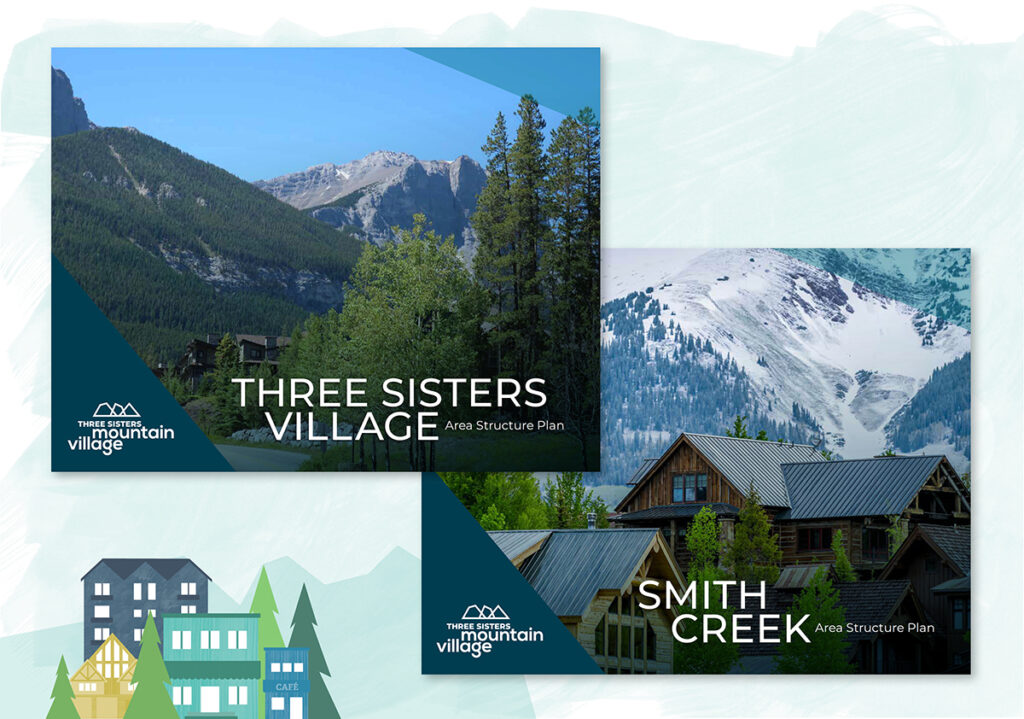 TSMV releases draft Area Structure Plans for Three Sisters Village and Smith Creek for engagement
Three Sisters Mountain Village (TSMV) released draft Area Structure Plans (ASPs) for Three Sisters Village and Smith Creek to the community on Tuesday, September 1, 2020 for the purpose of engagement and further public feedback on its remaining developable lands.
Informed by over five years of community engagement and supporting technical studies, these draft ASPs highlight the high-level framework and policy directions that will shape the development of these new communities. They address specific elements like affordable housing, wildlife and environmental sustainability, transportation considerations, economic diversification opportunities, and more. Feedback on each ASP was provided through the TSMV website or at two Online Open House sessions.
The proposed Three Sisters Village and Smith Creek developments bring many benefits to the community, including municipal parks, fieldhouse lands, outdoor recreation opportunities, a school site within Smith Creek, the recently approved wildlife corridor and updated undermining regulations. These ASPs and their supporting technical studies contain lots of information, a summary document with key highlights is available for review.
Supporting technical studies to be released once approved
ASPs are policy planning documents that set a broad framework for development. Before an ASP can proceed to Council, its supporting technical studies need to be reviewed and accepted by the municipality.
These studies include: Environmental Impact Studies, Transportation Impact Assessments, Socioeconomic Impact Assessments, Steep Creek Hazard Assessments, Municipal Fiscal Impact Assessments, Area Mining Impact Overview Reports, Engineering Analysis, and FireSmart Assessments.
Some studies cover each neighbourhood, while others are specific to one ASP. These studies are available after they have been reviewed by the Town of Canmore administration and no further technical questions will alter or change the report. The public will be able to review these supporting technical documents on the webpages for each community, Three Sisters Village and Smith Creek, once published.
Community engagement efforts ongoing
TSMV engagement and outreach will continue to span all interest groups. Most recently, TSMV held online webinars for targeted audiences, including the Canmore Seniors Association, Canmore's Young Adult Network (CYAN), trail users, business interest groups, and local non-profits.
In late September, TSMV hosted two virtual Open House Sessions open to all Canmore residents to learn more and share their input on the draft Area Structure Plans (ASPs) for Three Sisters Village and Smith Creek. TSMV's Director of Strategy and Development, Chris Ollenberger, hosted the events, provided a general overview of the project, and was joined by experts in topic areas including affordable housing, economic development, environment, wildlife, land use and mobility. After each expert's presentation, participants were able to ask questions related to each area of focus.
The intent of this last stage of engagement is to listen and understand further feedback and questions from the community. A What We Heard Report will summarize input, as well as how feedback was incorporated into the final ASPs that will be submitted to the Town for decision-making in the fall of 2020.