TSMV proposes unprecedented 20 per cent of housing to be affordable
Housing Affordability is a key issue in Canmore and in much of the Bow Valley. Addressing issues related to affordable housing requires a thoughtful approach. In total, TSMV is committing 20 per cent of the proposed residential units in Three Sisters Village and Smith Creek Area Structure Plans (ASPs) to affordable housing, serving both the ownership and rental markets. This is unprecedented in Canmore.
Much of our strategy to address housing affordability stem from the information found within the 2019 Bow Valley Regional Housing Needs Assessment (BVRHNA). The needs assessment identified several current housing gaps for Bow Valley residents. Not all households wish to purchase and not all households wish to rent—the ultimate objective is providing for choice for a variety of households and income levels and broadening the housing spectrum.
By creating a range of "missing middle" housing forms (townhomes, stacked townhomes and low-rise apartments), market and non-market housing units for ownership and renter households in Canmore, these ASPs are a tool that can help address the gaps identified in the 2019 needs assessment.
Both ASPs have policies that require that 10 per cent of multi-residential units (both ownership and rental) contain Perpetually Affordable Housing (PAH) units and requires employee housing for visitor accommodation projects. Importantly, new employee housing commitments (a minimum of 375 beds) are also made to service and address proposed new commercial, restaurant and retail projects.
These ASPs are the first in Canmore to propose employee housing for commercial and retail projects. The commitments outlined in the ASPs are equal to 1 bed per 5,000 sqft of retail, restaurant and other commercial projects. The ASPs contain policy that support TSMV commitment to build employee housing beds, as well as a commitment to build a minimum of 200 market rental units.
Based on the 2019 Bow Valley Region Needs Assessment and TSMV's Socio-Economic Impact Assessment, these commitments will also add to needed inventory beyond TSMV's needs, helping to address current and future needs for employee housing elsewhere in Canmore. This is a significant community benefit.
There is also a provision for community lands in Smith Creek to be transferred to the Town of Canmore which could accommodate approximately 100-200 affordable housing units. More efficient use of land will also help to reduce direct housing costs.
The ASPs also require secondary suites in single- and semi-detached homes and encourages them in townhomes to increase affordability and ensure that entry level housing aligns with Canmore Community Housing design standards to provide market entry ownership options.
Different groups experience different needs for housing and to provide opportunities for the most amount of people on TSMV lands requires a multi-faceted approach. The graphics below demonstrate the overall approach to address housing gaps outlined in the Bow Valley Regional Housing Needs Assessment.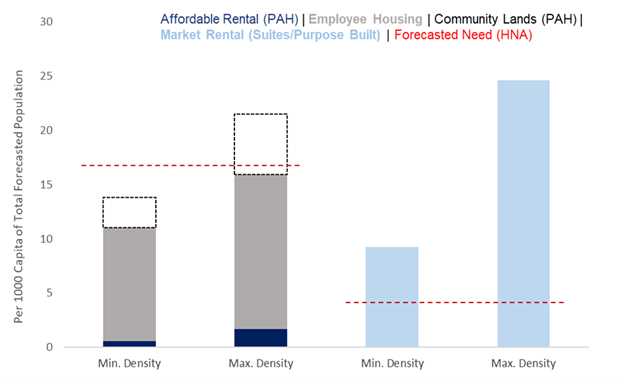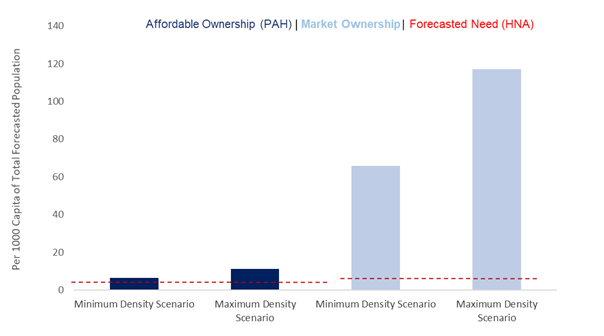 Ensuring that non-market, market and rental and ownership households are targeted—as well as providing employee housing beds— addresses the current housing gaps and creates additional flexibility and sources for affordable housing forms.
These graphics demonstrate TSMVs housing commitments and how they address current needs throughout Canmore (not just within TSMV ASPs). As you can see, TSMV closes or surpasses the needs represented by the red line. These graphics help clarify the significant community benefit with respect to closing housing gaps that would be possible through these ASPs.
What's important to note is, entry level housing and market ownership units are not being counted as a part of affordable housing mix, but this approach will enable households to move within the housing spectrum and will provide additional options for first-time buyers.
TSMV is not the only place to find the solution for affordable housing in Canmore but the affordable housing proposed in the Three Sisters Village and Smith Creek ASPs will go a long way in addressing current and future housing needs existing already in Canmore.