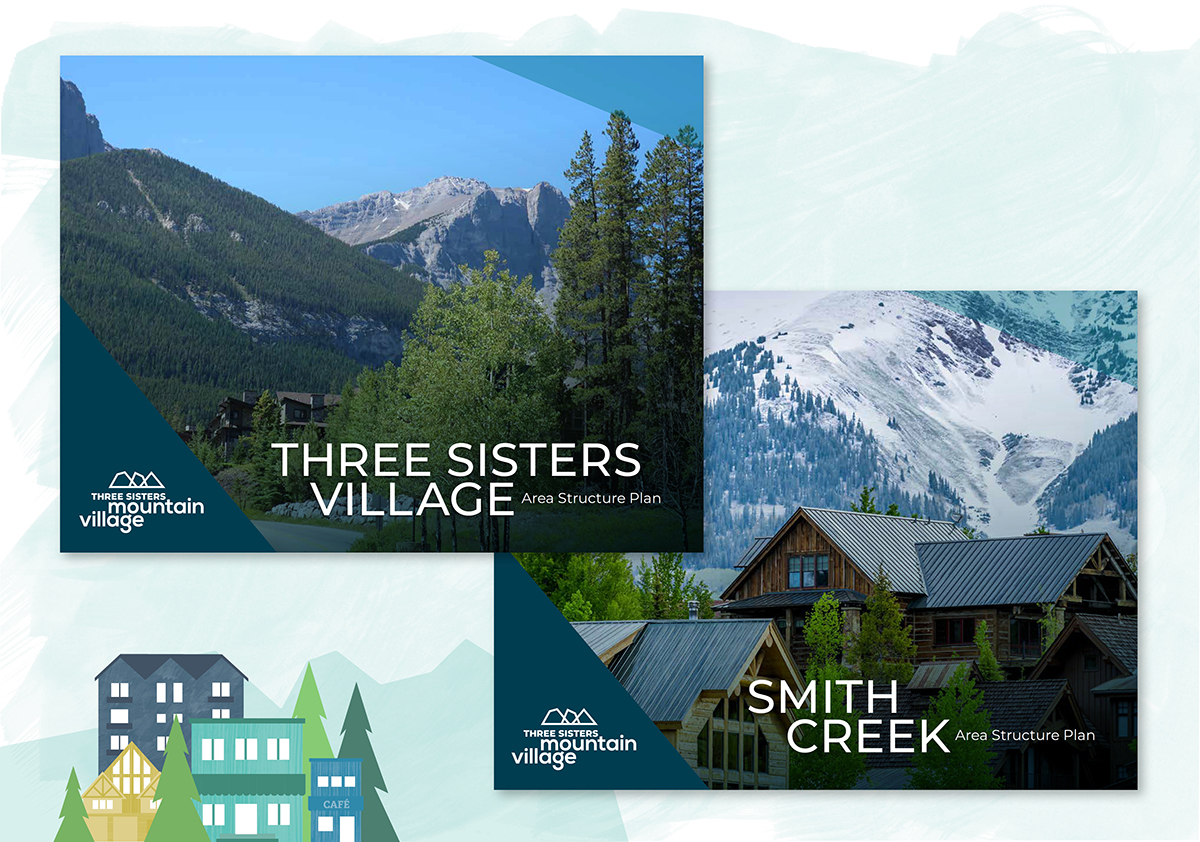 TSMV has submitted Area Structure Plans for Three Sisters Village and Smith Creek to the Town of Canmore
Some of the highlights from the ASPs include:
Municipal parks
Recreation amenities
Fieldhouse lands
Spaces for arts and culture opportunities
Future school site
Sustainable transportation initiatives
Incorporation of the approved 2020 wildlife corridor to set aside space for wildlife.
The plans also include several commitments to affordable housing from a variety of housing types to numerous options for ownership and rental opportunities to employee housing requirements.
"These submissions provide Council and the community a comprehensive vision for TSMV's remaining developable lands. These ASPs support the Town of Canmore's goals in the Municipal Development Plan by providing economic, social, and environmental benefits that continue to build on Canmore's strengths and opportunities. They also address feedback from the community that we have heard consistently over five years of engagement," said David Taylor, Chairman, Three Sisters Mountain Village.
Significant changes since draft ASP's released for community feedback 
The development of the ASP submissions reflects community input that has been provided as plans for these projects have evolved. Throughout the five-year engagement period, the four most common themes have focused on:
Affordability
Wildlife
Mobility
Economic diversification.
In addition, discussions on the tax implications of development, questions about undermining and mitigations for steep creeks, calls for more recreational amenities, and queries about how development can support climate action have also surfaced.
Community feedback on the draft ASPs, made public four months ago, has resulted in significant changes leading to:
More affordable housing

Further alignment with Canmore's Climate Action Plan

Clarity on monitoring of wildlife mitigations and adaptive management

And more. 
TSMV has refined their ASPs based on community input outlined in the What We Heard Report, including:
Commitment of 20 per cent of housing is proposed to be affordable, including:

Property acquisition for Vital Homes or Perpetually Affordable Housing for CHC or other organizations focused on affordability
Purpose Built Rentals for those that cannot afford or are not interested in purchasing
Employee Housing requirement for all visitor accommodation and a commitment to build a minimum of 350 employee housing beds for the first time in Canmore to address retail housing demand
Smith Creek ASP facilitates the provision for community lands to be transferred to the Town of Canmore which could accommodate approximately 100-200 affordable housing units
All single-family and semi-detached units in Smith Creek will be required to be "suite ready"
Additional Employee Housing proposed for The Gateway development at Three Sisters Parkway and Three Sisters Boulevard as part of the existing Stewart Creek ASP

Adjusting bonusing provisions to create more incentive to increase sustainable housing initiatives that support Canmore's Climate Action Plan
Increased transparency of policies related to transportation and how to ensure sustainable objectives are monitored and met
Clarity on monitoring of environmental mitigations and how adaptive management would be applied
Comprehensive multi-modal transportation system to reduce emissions in alignment with Canmore's Climate Action Plan
Commercial and light industrial areas to increase economic diversity and accommodate services that address residents' daily needs.
What's next now that the ASPs have been submitted?
Now that the ASP's have been submitted, Canmore Town Council will consider First Reading for both the Smith Creek and Three Sisters Village ASPs on Tuesday, February 9. Town Administration will speak to the submission and answer questions from Council. If first reading is approved, Council will then set a date for a public hearing.
When the date of public hearing is set, the Town of Canmore will advertise details of the event, so community members have time to prepare to participate by providing any comments as a part of the public hearing process. Public hearings are an opportunity for Council to hear directly from the community, businesses, residents and TSMV. Administration starts the public hearing off with an overview, followed by an opportunity for those in support to speak, and then an opportunity for those with concerns to speak. Technical experts from Administration and TSMV are on hand to answer any questions that Council may have.
Once the public hearing is concluded, that ends the process for public feedback and comment that Council may consider and a date for second reading is set for further discussion by Council only. Council may elect to make amendments to the ASPs at this stage or may ask questions of Town Administration for follow up at third reading. If second reading is approved, Council then schedules a third reading for final consideration and discussion, and ultimately a vote to decide whether to move approve the ASPs or not. This Council decision is decided by majority vote.