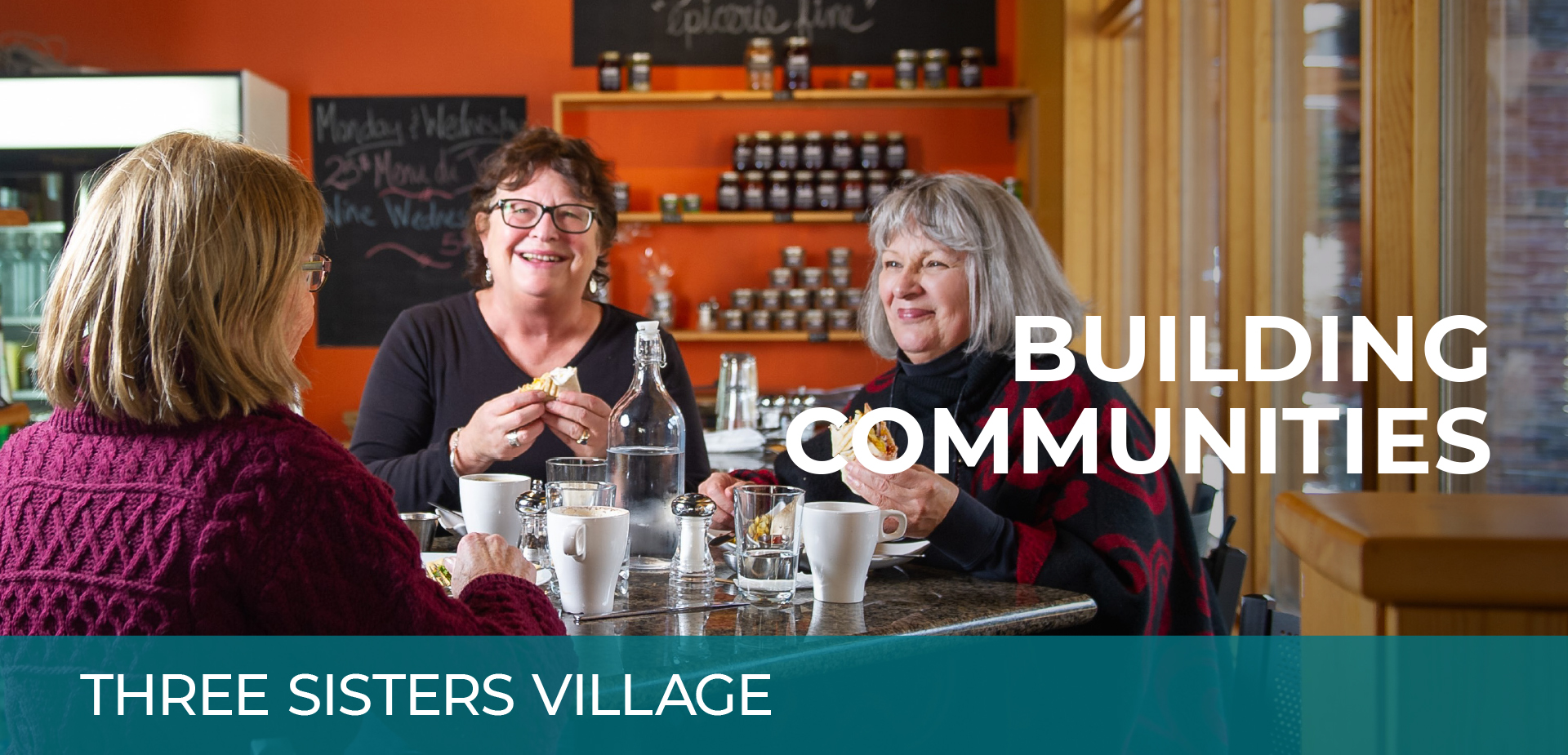 Three Sisters Village will become a new activity, health and wellness hub, economic driver and gathering place for the community.
The Village will welcome people from around the world to enjoy all that Canmore has to offer and will be a home and destination for residents and guests alike. This area will be anchored by a pedestrianized mixed-use village centre bordered by a landmark hotel with a plaza that will become a meeting place and a place to experience programming and events. Transit, cycling and pedestrian trails will link the entire community and other areas of Canmore making sustainable forms of transportation the easiest choice.
An outdoor Resort Recreation Amenity Area will feature activities such as ropes courses, climbing walls, and bicycle pump tracks anchoring other recreational opportunities the resort offers. The residential neighbourhood will focus on compact development and emphasises 'missing middle' forms of housing for new and existing Canmorites. Once arriving, residents and guests will be able to get around the neighbourhood most easily by walking, cycling or taking transit to other areas of Canmore.
The Village Centre will be home to cafes, restaurants, retail, and markets as well as offices, tourist homes and other complementary uses above grade. Pedestrian-only streets and plazas will provide for a high-quality pedestrian experience that culminates around a centralized plaza.
The Innovation District focuses on creative manufacturing that accommodates flexible, light industrial uses, office spaces, and to start, limited at-grade commercial uses. This district will be a showcase for innovative spaces where Canmore's business community can focus on the creation, development and ancillary marketing of products or services, both physically and digitally to contribute to the economic diversification of Canmore.
All of these offerings come together in Three Sisters Village making it the natural basecamp for local and guest recreational adventures and a recognized health and wellness hub.
Three Sisters Village draft ASP now available for review
Informed by over five years of community engagement and supporting technical studies, Three Sisters Mountain Village submitted a draft Area Structure Plan (ASP) to the Town of Canmore that highlights the high-level framework and policy directions for affordable housing, wildlife and environmental sustainability, transportation considerations, economic diversification opportunities and more.  
Two ASPs are being considered at the same time to provide the Canmore community an understanding of the complete vision for Three Sisters Mountain Village.  Feedback on each ASP can be provided through the TSMV website or at upcoming community engagement sessions.
View a summary sheet with key highlights from each ASP
TSMV owns roughly 80 per cent of the developable land left in Canmore. The proposed development brings many benefits to the community, including municipal parks, fieldhouse lands, outdoor recreation opportunities, a school site, and the recently approved wildlife corridor. The draft ASPs address feedback TSMV has heard from the community, including the importance of a variety of housing options, wildlife sustainability, mobility and transportation, and economic diversity. 
 
sRead supporting technical studies 
ASPs are policy planning documents that set a broad policy  framework for development and are supported by numerous supporting studies. Before an ASP can proceed to Council, these technical reports need to be reviewed and accepted by the municipality.
The following technical studies have been accepted: 
 Coming soon:
Transportation Impact Assessment

Steep Creek Hazard Assessment
Steep Creek Mitigation Report

Area Mining Impact Overview Report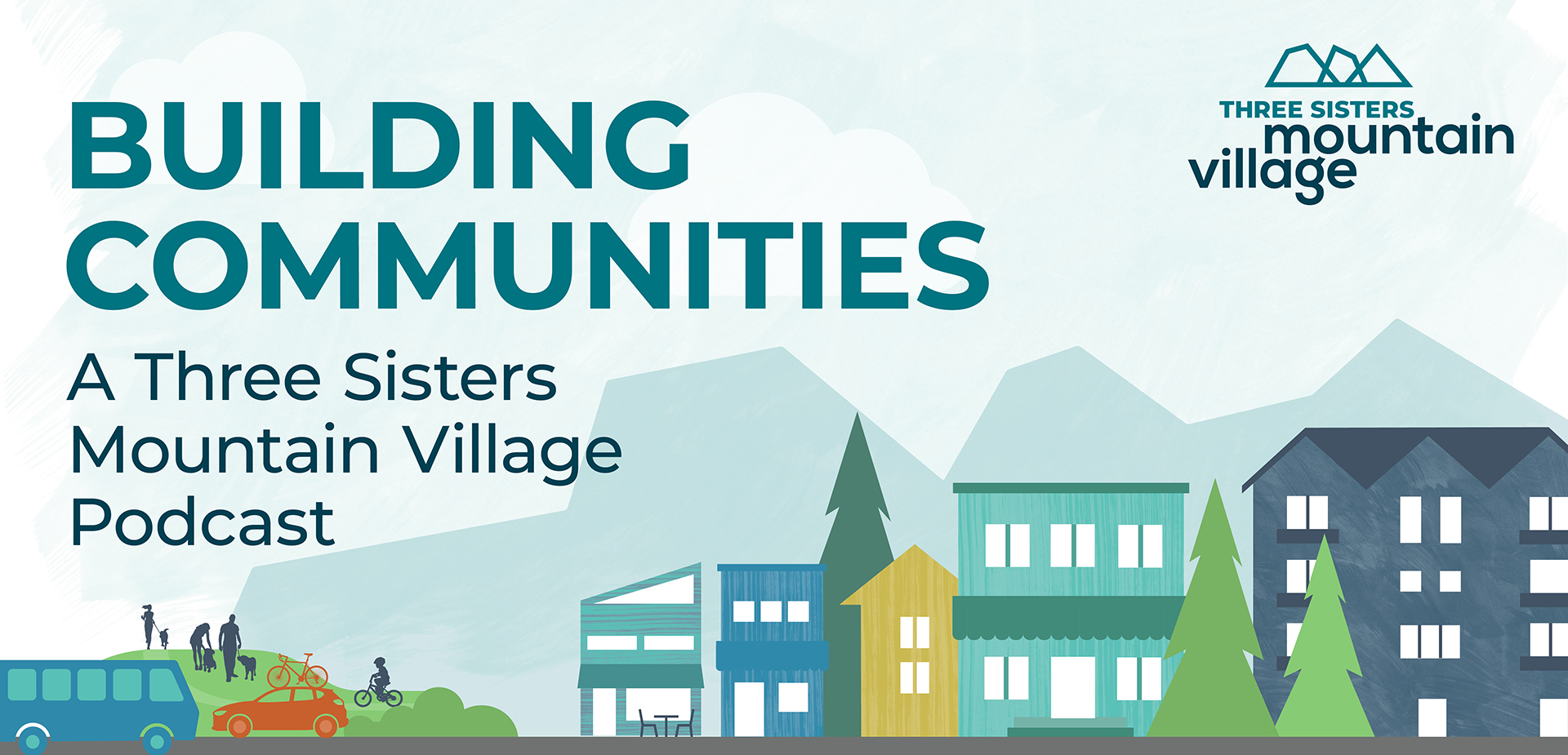 Listen to Building Communities: A Three Sisters Mountain Village Podcast
To help the community of Canmore understand the importance of an Area Structure Plan, TSMV produced a podcast that explains this integral planning document, planning regulations in Alberta and what's next for TSMV. Host Michelle Gurney speaks with Dr. Francisco Alaniz Uribe, Professor of Urban Design and Planning at the University of Calgary, and David Taylor, TSMV President, to learn more.
Where is Three Sisters' Village?
The proposed development area for Three Sisters' Village is located within the Town of Canmore, south of the downtown core along Three Sisters Parkway, just west of Stewart Creek Golf Course. The Village will become the focal point of TSMV. It is anticipated that the neighborhood will be complete in 20-plus years.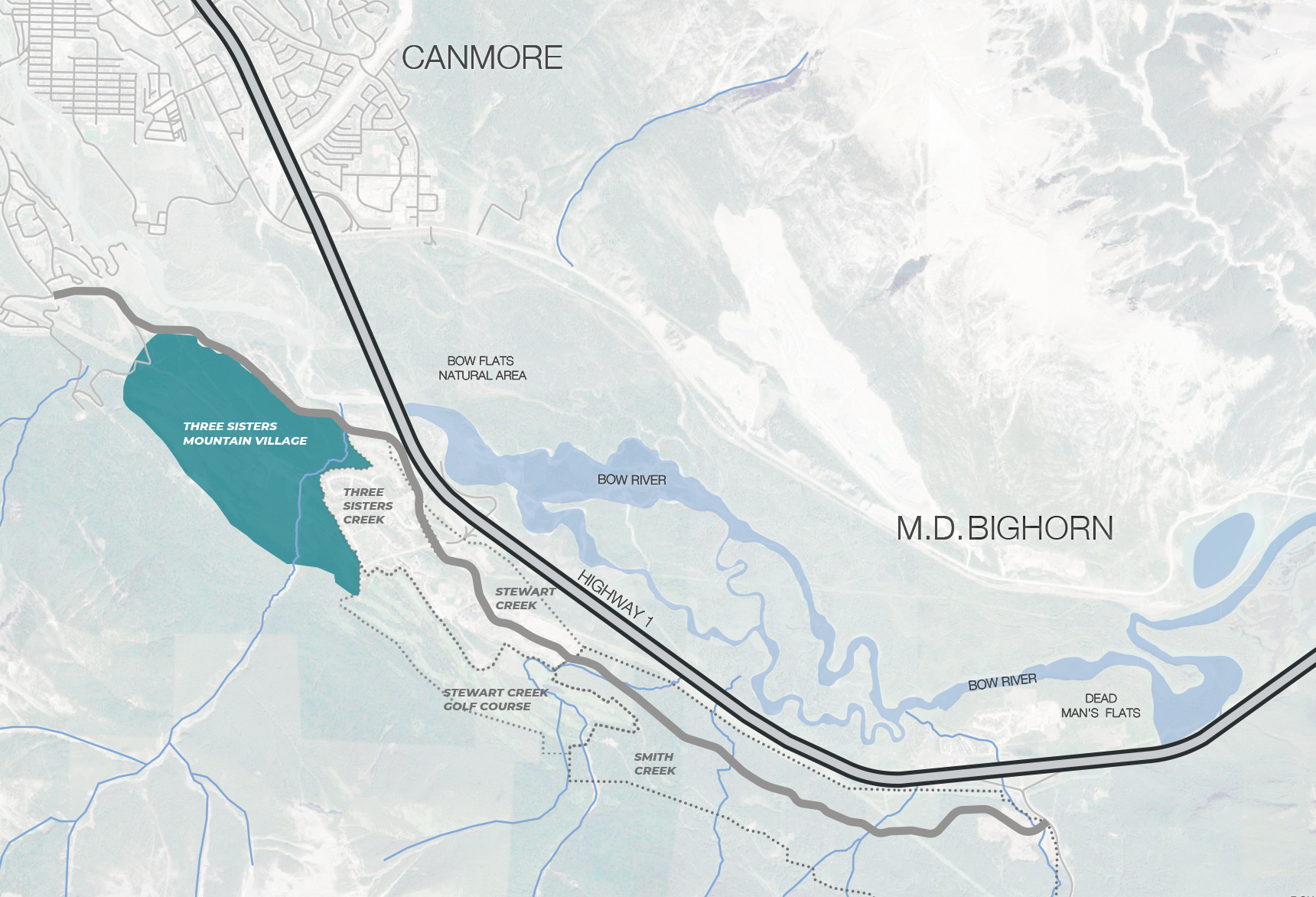 Learn more about the vision for each TSMV community: