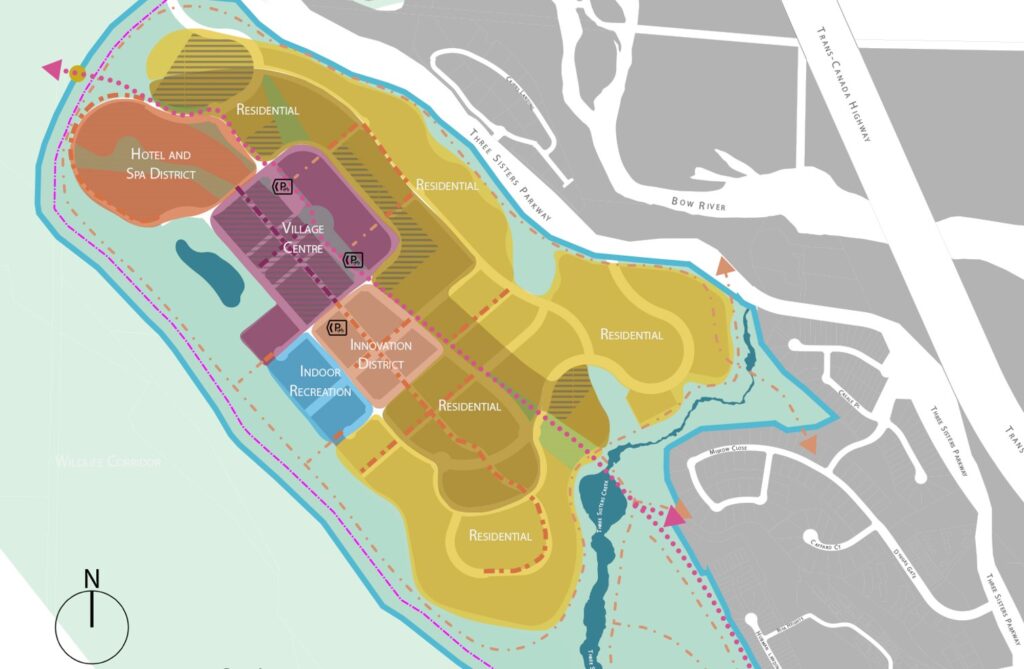 Three Sisters shares planning update with Canmore Council
Following recent announcements from the Government of Alberta, establishing the Smith Creek Wildlife Corridor and updating undermining regulations, Three Sisters Mountain Village (TSMV) gave a presentation at the virtual Committee of the Whole meeting on Tuesday, June 16. As part of its regular communication updates to Canmore Town Council, TSMV noted its appreciation for Council's previous advice on bringing both ASPs forward as closely together as possible for a holistic view, and also how the Provincial announcements supported Council's requests. TSMV is looking forward to presenting the two ASPs for the remaining land to be developed in Three Sisters Village and Smith Creek. 
Informed by over five years of community engagement and supporting technical studies, these ASPs will highlight the high-level framework and policy directions for affordable housing, wildlife and environmental sustainability, transportation considerations, economic diversification opportunities and more. TSMV shared these highlights and conceptual maps of each area, plus descriptions of the key attributes of the plans.
Three Sisters Village will become a destination for residents and guests. Anchored by a landmark hotel, and a nearby district for additional hotels and spa facilities, the Village is envisioned as a lively, pedestrian-oriented community with enhanced transit, cycling and trail systems, resort accommodations and amenities, employee housing, indoor and outdoor recreation opportunities, restaurants, retail, health and wellness services, and an innovation district that showcases Canmore's entrepreneurial spirit. There will be environmental and sustainability incentives for green building, affordable housing and arts and culture amenities.
Down the valley, Smith Creek will provide housing options for a range of income levels, as well as a significant new area for flex-commercial, light industrial and manufacturing components that add to Canmore's economic diversification. It will have all the conveniences and essential services needed for daily living. It will also  include space for a potential school site and a new municipal parks. Three Sisters Parkway will serve as a central connector to this area, and future transit service will be easily added along with Canmore's fifth interchange with the Trans-Canada Highway to support these new business opportunities.
ASPs are a policy planning documents that set a broad framework for development. Before an ASP can be submitted to the Town of Canmore, its supporting studies need to be reviewed and accepted by the municipality. For Three Sisters' ASPs, these include: Environmental Impact Studies, Transportation Impact Assessments, Socioeconomic Impact Assessments, Steep Creek Hazard Assessments, Municipal Fiscal Impact Assessments, Area Mining Impact Overview Reports, Engineering Analysis, and FireSmart Assessments. TSMV shared that these studies are completed or near completion and will be included in its submission of the ASP's in Fall of 2020.
Community engagement activities continue to span all interest groups, and updates to Council will continue throughout the Summer and into the Fall. Watch for the promotion of these activities in this newsletter, on our website, through social media or through local media outlets. The intent of this last stage of engagement is to listen and understand further feedback and questions from the community. A What We Heard Report will summarize input, as well as how feedback could be incorporated into the ASPs that will be submitted to the Town in the fall.