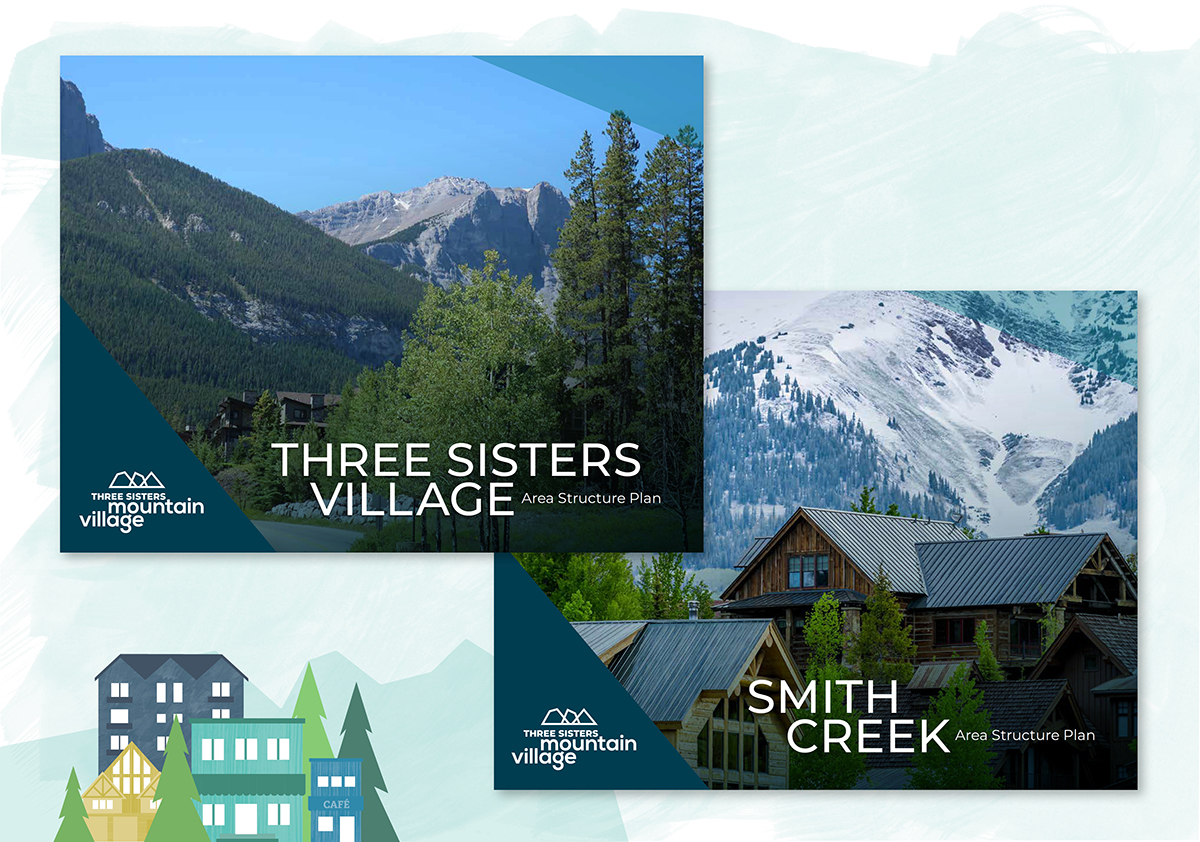 Show your support for TSMV's ASP's and write Town of Canmore Council
Ongoing and sustainable development on TSMV lands over the next 30 years will create environmental, economic and social opportunities in the community for decades to come if it is done right.
If you support the ASPs for Three Sisters Village and Smith Creek, email municipal.clerk@canmore.ca and reference Bylaws 2021-05 and 2021-06. Submissions received before 9 a.m. on Friday, March 5 will be published and distributed to Council before the hearing; submissions received after 9 a.m. on March 5 but before the close of the public hearing will be published and distributed the day after the hearing.
Speakers will be assigned to 10-minute time slots. If all speakers can't be heard on March 9, the hearing will resume on March 10 at 9 a.m.
Here are some of highlights and benefits of the Three Sisters Village and Smith Creek ASPs:
Affordable housing:
Up to 20% of housing is proposed to be affordable. This includes:

10% contribution for Perpetually Affordable Housing.
Purpose Built Rentals for those that cannot afford or are not interested in purchasing.
Employee Housing requirement for all visitor accommodation.
A commitment to build a minimum of 350 employee housing beds to address retail housing demand in addition to any employee housing already required for hotels and other visitor accommodation.
Provision for community lands in Smith Creek to be transferred to the Town of Canmore which could accommodate approximately 100-200 affordable housing units.
All single-family and semi-detached units in Smith Creek required to be "suite ready."
More efficient use of land and to reduce direct housing costs.
Wildlife sustainability:
The plans incorporate the provincially approved 2020 wildlife corridor. Overall, more than 60 per cent TSMV's private land holdings have been set aside to improve connectivity for wildlife and create shared landscapes with people.
Up to 40 per cent of land in Three Sisters Village and 15 per cent in Smith Creek will be parks and open space. This will create recreational opportunities—mountain biking, dog parks, etc.—outside of the wildlife corridor.
Wildlife mitigations will be applied to the developments including fencing, attractant management, education programs, a development phasing strategy tied to a Monitoring and Adaptive Management Plan, and more.
A Monitoring and Adaptive Management Plan will compare present day activities with previously collected data to see of any changes occur within the wildlife corridors. Depending on what is observed, a series of adaptions can be applied: increased enforcement, adjusting fence construction and design, habitat improvements, updated education materials, trail closures, etc.
Further clarity has been provided for the Monitoring and Adaptive Management Plan:

Clear direction that wildlife monitoring will commence prior to development and that the wildlife fence will be erected in conjunction with construction.
Clear direction as to how Adaptive Management would apply to the development.
A professional biologist will undertake the design of the wildlife fence along with other subject matter experts like professional engineers.
Clarity regarding how the Monitoring and Adaptive Management Plan will function, when it will be developed and what type of detail it will contain.
Policy regarding coordination of cross-jurisdictional matters between the Town, the Province and Three Sisters Mountain Village.
Policy improved regarding the wildlife fence and under what conditions it may be moved or removed.
Economic diversification:
Commercial and light industrial areas will increase Canmore's economic diversity and accommodate services that address residents' daily needs:

Three Sisters Village:

Up to 340,000 sq. ft. of total retail and service commercial space
The addition of an Innovation District with up to 240,000 sq. ft. of space

Smith Creek:

A commercial area with up to 125,000 sq. ft. of retail and services
An Industrial area with up to 74,000 sq. ft. for light manufacturing, warehousing and storage, research and development, laboratories, office, post-secondary education and indoor recreation.

An increased population base will make Canmore a more appealing market for new retailers and service providers and offer new opportunities for existing businesses that address residents' daily needs.
The project has the potential to improve Canmore's municipal fiscal sustainability by shifting non-residential values from 18 per cent to 27 per cent of Canmore's total assessment. This could allow the Town to decrease tax rates and move toward the Municipal Development Plan goal of a more sustainable assessment split.
The economic impacts of construction will generate $165 million in Gross Domestic Product and $95 million in Labour Income annually, supporting an estimated 2,300 jobs.
After accounting for increased costs of services and infrastructure, the Town of Canmore is expected to be in a more positive fiscal position. This will help maintain the current level of services offered to residents if the project moves forward.
Transportation
The sustainable transportation targets for both ASPs are now monitored by assessments completed at future detailed applications that will proactively work to meet the expectations of the Transportation Impact Assessment.
Off-site infrastructure improvements outside of TSMV clearly identified to support the sustainable transportation targets.
Further alignment with Canmore Climate Action Plan
A new bonus incentive policy that will only allow for full build out of the development if buildings are near or at net-zero.
The bonus incentive policy caps units at 3,000 units unless GHG reductions are incorporated. Bonus incentives commence when buildings perform at a minimum of 20% better than the Alberta Building Code or generate 25% or more of their own green energy.
A street network will be designed to encourage walking, biking and transit use, reducing congestion and greenhouse gas emissions.
Extensive walking/biking commuter trail network will link areas within TSMV and the rest of Canmore.
Higher density built forms such as townhomes and apartments that further supports more sustainable transportation.
Understanding undermining
Approximately 40 per cent of the Three Sisters Village ASP lands are not affected by undermining.
Approximately 55 per cent of Three Sisters Village has undermining conditions and potential impacts that are similar to communities such as Three Sisters Ridge and Stewart Creek, Our Lady of the Snows school, and the Stewart Creek Clubhouse.
Roughly 5 per cent of the land has steeper mined sections and TSMV is not proposing any buildings in these locations.
The ASPs follow the newly updated, 2020 Provincial Undermining Regulations and the provincially approved 2020 Guidelines.
Conceptual plans are based upon heavily studied undermining maps, boreholes, surveys and field reconnaissance. Almost 500 boreholes have been drilled to date, some reaching depths of over 200 metres.