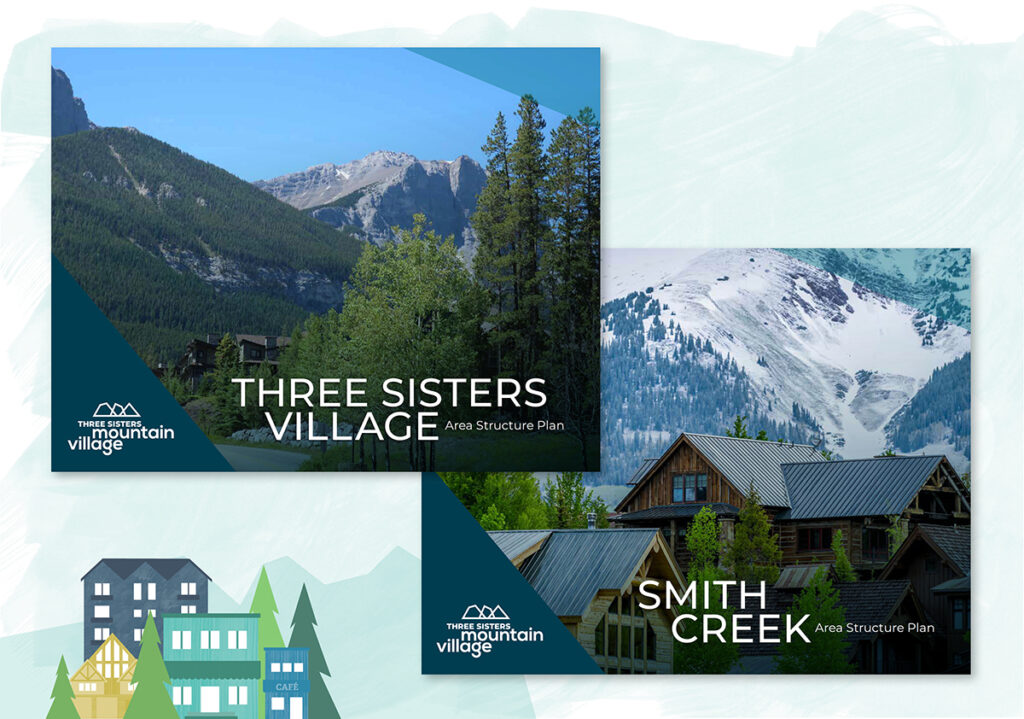 Show your support for TSMV's ASP's and write Town of Canmore Council
Ongoing and sustainable development on TSMV lands over the next 30 years will create environmental, economic and social opportunities in the community for decades to come if it is done right. Here are just some of the ways TSMV will do that:
Up to 40 per cent of land in Three Sisters Village and 15 per cent in Smith Creek will be parks and open space. This will create recreational opportunities—mountain biking, dog parks, etc.—outside of the wildlife corridor. Overall, more than 60 per cent TSMV's private land holdings have been set aside to improve connectivity for wildlife and create shared landscapes with people.
More compact urban living with a variety of housing types, such as townhomes and apartments, and efficient use of land, will reduce direct housing costs and support more sustainable transportation including walking, biking and transit.
TSMV is using a variety of tools to make a 20 per cent commitment to affordable housing throughout Three Sisters Mountain Village. This includes a 10 per cent commitment to affordable housing (i.e. Vital Homes program). In addition, TSMV has made commitments to build a minimum of 350 employee housing beds. To ensure that there is a variety of tenures offered in Canmore now and into the future, there is a commitment to ensure that a minimum of 200 market rental units will be built within Three Sisters Mountain Village. The approval of the Smith Creek ASP will also facilitate the provision of Community Lands to the Town of Canmore for the purpose of affordable housing in exchange for road right-of-ways (approximately 2.32 hectares) that could accommodate 100-200 affordable housing units. In addition, all single- and semi-detached units in Smith Creek will be required to be "suite ready" allowing homeowners to easily build Accessory Dwelling Units that are compliant with the Alberta Building Code. TSMV has also enabled Accessory Dwelling Units in Townhomes for both ASP areas.
An extensive trail network and public transit routes will also link areas within TSMV and with other communities in Canmore—reducing transportation-associated GHG emissions and connecting people with each other, with businesses and services.
Commercial and light industrial areas will increase Canmore's economic diversity and accommodate services that address residents' daily needs:

Three Sisters Village:

Up to 340,000 sq. ft. of total retail and service commercial space
The addition of an Innovation District with up to 240,000 sq. ft. of space

Smith Creek:

A commercial area with up to 125,000 sq. ft. of retail and services
An Industrial area with up to 74,000 sq. ft. for light manufacturing, warehousing and storage, research and development, laboratories, office, post-secondary education and indoor recreation.

The project has the potential to improve Canmore's municipal fiscal sustainability by shifting non-residential values from 18 per cent to 28 per cent of Canmore's total assessment. This could allow the Town to decrease tax rates and move toward the Municipal
Development Plan goal of a more sustainable assessment split.
The economic impacts of construction will generate $165 million in Gross Domestic Product and $95 million in Labour Income annually, supporting an estimated 2,300 jobs.
A school site in Smith Creek will accommodate kindergarten to Grade 12 students.
If you support this project for these reasons or more, now is the time to write a letter or send an email to Town Council showing your support for moving the Three Sisters Village and Smith Creek ASPs forward. If you would like to have comments shared with Council, please send your email directly to the Municipal Clerk.