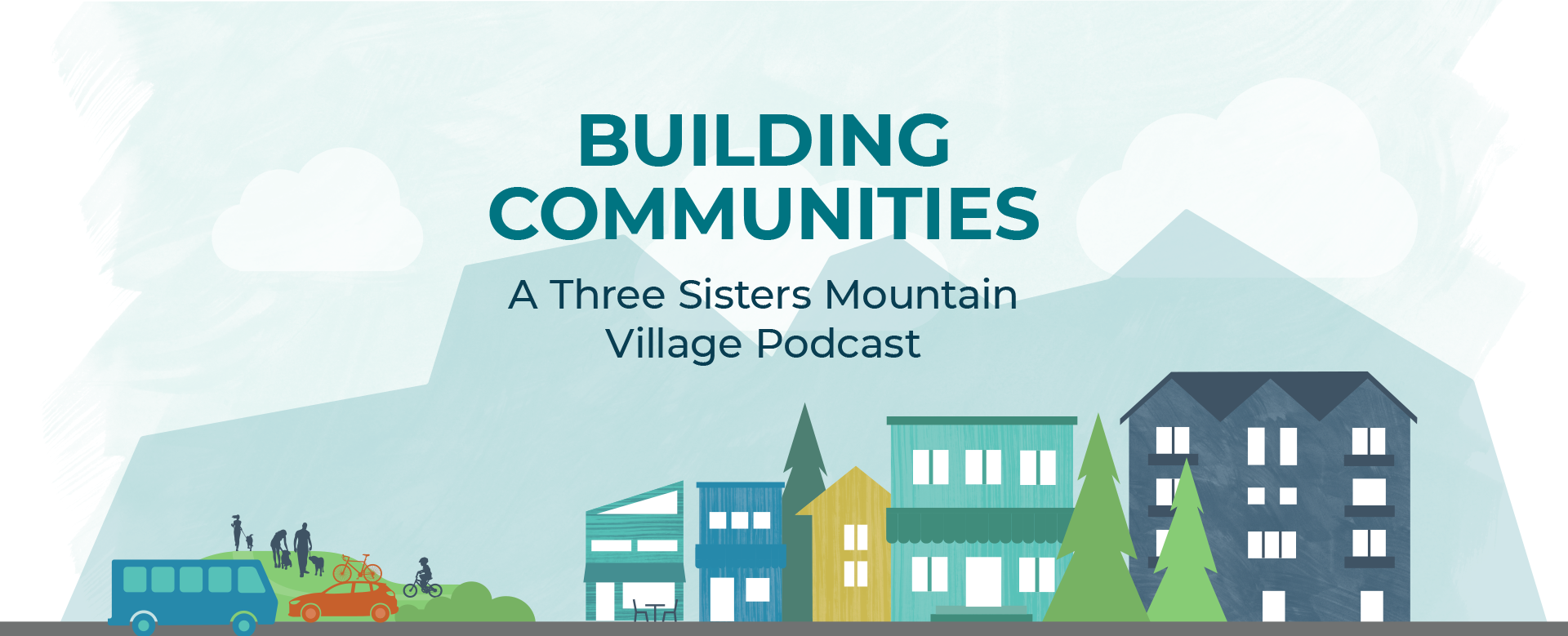 Listen in and learn more
The proposed Three Sisters Village and Smith Creek developments address feedback heard from the community, including the importance of a variety of housing options, wildlife sustainability, mobility and transportation, and economic diversity. 
Area Structure plans and their supporting technical studies contain a lot of information, so we've launched a podcast series to help the community understand key elements. 
Examining the economic impact of TSMVs ASPs
How will TSMV's proposed development plans impact property taxes? In Episode 4, host Michelle Gurney dives into the question and discusses the economic impact of both ASPs with Chris Ollenberger, managing principal of QuantumPlace Developments and director of strategy and development for TSMV, as well as Jessica Karpat, director of planning for TSMV.
They are joined by Peter Norman, chief economist for Altus Group and the author of the Commercial Market Needs Assessment, and Pearce Shewchuk, principal at Nicolas Applied Management and author of the Municipal Fiscal Impact Assessment.
Understanding the Land Use Planning Framework in Alberta and Canmore
To help the community of Canmore understand the importance of an Area Structure Plan, we produced a podcast that explains this integral planning document, planning regulations in Alberta, and what's next for TSMV. In our inagural episode, host Michelle Gurney speaks with Dr. Francisco Alaniz Uribe, Professor of Urban Design and Planning at the University of Calgary, and David Taylor, TSMV President.
Sustainability and the Environment: A Common future.

Dr. Kyle Knopff (PhD, PBiol, RPBio) has spent tens of thousands of hours in the Canadian Rocky Mountains observing and tracking wildlife. A biologist with a PhD in Ecology from the University of Alberta, he has been consulting on TSMV projects with Golder Associates since 2010. Golder has prepared an in-depth, draft Environmental Impact Statement for Three Sisters Village that is more than 430-pages long. It is one of the most comprehensive and researched assessments undertaken on TSMV lands.
In Episode 2, host Michelle Gurney spoke with Kyle to learn more about the environmental impacts that have been identified and how they can be mitigated. QuantumPlace Developments Principal, Chris Ollenberger, shares how insights from the EIS are incorporated into the ASP for Three Sisters Village.
Connectivity and Mobility.

In Episode 3, host Michelle Gurney speaks with Mac Logan, Senior Project Manager of Transportation Planning and Advisory Services for WSP. Mac is the lead author of the Transportation Impact Assessment for Three Sisters Village and Smith Creek, a key supporting document for the draft ASPs. Chris Ollenberger, Director of Strategy and Development for the project, talks about how the draft ASPs propose to meet the daily needs of the people who will live, work and visit Canmore.