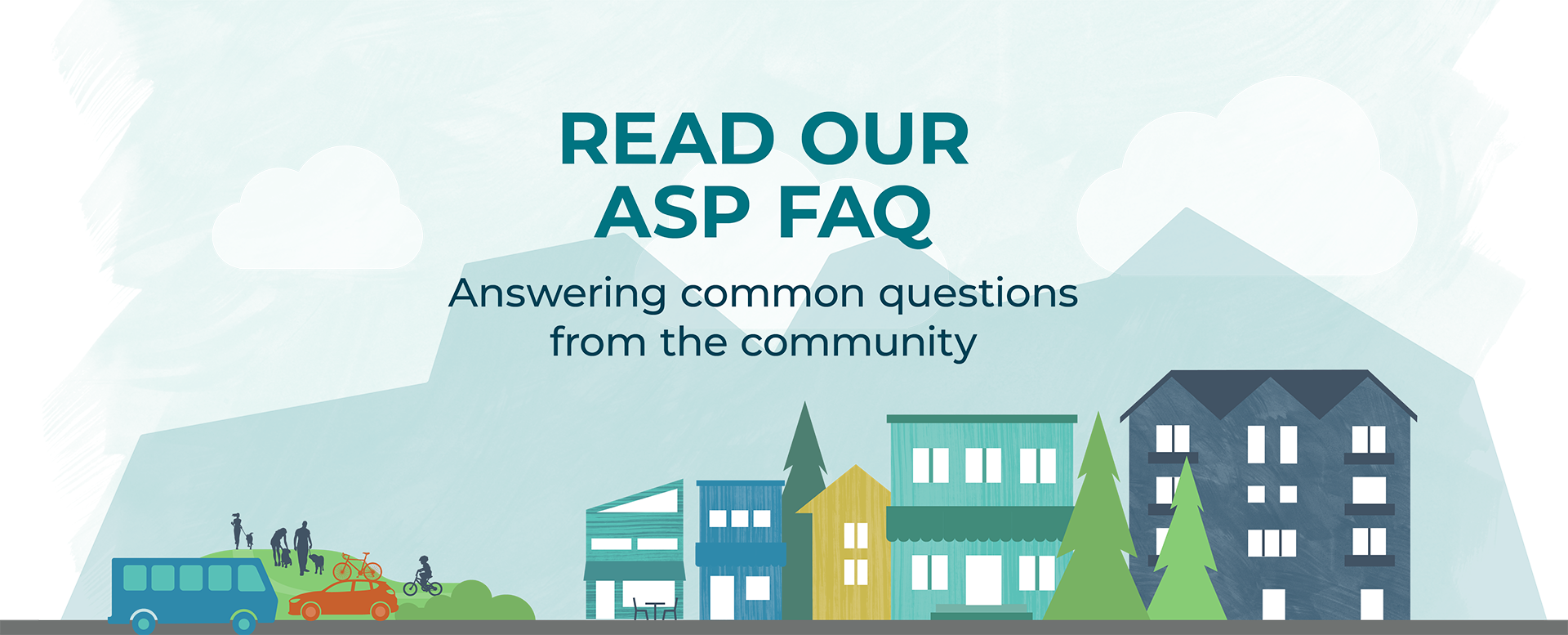 FREQUENTLY ASKED QUESTIONS
Since TSMV released draft ASPs for Three Sisters Village and Smith Creek, community engagement efforts have resulted in some frequently asked questions. We have organized them into common areas of interest to make answers you may be interested in easier to find below.
PROCESS
Can you explain the phasing/timing of these developments?
These developments will grow with Canmore over the next 20 to 30 years. Phasing and sequencing will be tied to the Environmental Impact Statement (EIS) and its Monitoring and Adaptive Management Plan. Stakeholders have shared they want confidence in the mitigations applied to the project, especially the fence, and phasing will work with this plan to resolve any uncertainty people feel. Phasing will also consider municipal infrastructure, public services and amenities, and more.
In Smith Creek, a road is needed to extend to the Dead Mans Flats Interchange for emergency access. As a result, this work is proposed to start in the west, then move to east. Fencing for Smith Creek will go up in stages, so that the fence will encircle development as construction progresses.
Are all supporting technical studies completed? Are they publicly available?
ASPs are policy planning documents that set a broad framework for development. Before an ASP can be officially submitted, its supporting technical studies need to be reviewed and accepted by the municipality. These studies include: Environmental Impact Studies, Transportation Impact Assessments, Socioeconomic Impact Assessments, Steep Creek Hazard Assessments, Municipal Fiscal Impact Assessments, Area Mining Impact Overview Reports, Engineering Analysis, and FireSmart Assessments.
Some studies cover each neighbourhood, while others are specific to one ASP. Each study will become available after they have been accepted by the Town of Canmore. The public will be able to review these supporting technical documents on TSMV's website once published. Current Three Sisters Village technical studies are published here, and Smith Creek's are here.
Where will the wildlife fence be located?
A wildlife fence is proposed along the perimeter of Three Sisters Village and Smith Creek, and connect to the fence along the highway, where possible. Access points to provincially designated trails will be facilitated through gated entry points. The EIS outlines other mitigations for the development, including attractant management, education, recreational amenities within the development, a development phasing strategy tied to the Monitoring and Adaptive Management Plan and more. A comprehensive list is outlined in Table 50 on page 288 of the EIS.
How will human use be discouraged in the wildlife corridor?
In addition to limiting conflict between humans and wildlife, a secondary benefit of fencing is facilitating education and highlighting that the corridor is a special place reserved primarily for wildlife. While people will still be able to access Provincially approved trails, signs will educate on the specific behaviours that are required to be followed in the corridor. Education and enforcement will serve to achieve compliance with trail use, off-leash dog use, and seasonal closure regulations.
Recreational opportunities provided within the developments will also help alleviate human use pressure on the corridors and provide an alternative to recreating within areas designed for wildlife movement. Recreational amenities, such as off-leash dog parks, mountain bike trails, and more, will provide a positive alternative to inappropriate human use in the wildlife corridor.
Tell us about wildlife education and enforcement programs—who is responsible?
What is meant by habitat enhancements?
Habitat enhancements are any actions taken to improve a specific function of a landscape for the benefit of a specific species. Habitat enhancements could be conducted for the purpose of encouraging food production, discourage human-use or other objectives identified in the EIS. Habitat enhancements could include clearing of spaces within the corridor to encourage food production and habitat for a specific species or the closure of unsanctioned trails.
What is the status of the proposed wildlife crossing under the TransCanada Highway?
A conceptual design will be prepared for review by various government agencies such as Alberta Environment and Alberta Transportation, likely beginning in 2021.
Has light and noise pollution impact on wildlife been accounted for in the EIS?
In the EIS, Golder examined the potential impacts of sensory disturbance. Where possible, it is recommended for development to occur away from the corridor to separate light and noise associated with buildings and roads. For Three Sisters Village, recreational areas and open spaces are concentrated against the corridor. Different species react differently to sensory disturbance. Elk are more acceptable, wolves are not. The proposed fence aims to keep wildlife out of developed areas and directs them to corridors where they are free to move and are less likely to have negative interactions with people.
Did Golder look at any other scenarios of development, like less population/density, or were they asked to look at minimizing impacts on wildlife based on a development of this size?
The EIS was prepared to meet the Terms of Reference (TOR) issued by the Town of Canmore. Stakeholders were especially concerned about the impacts on wildlife, particularly wildlife movement and human-wildlife interactions. This topic area was given greatest focus in the EIS. An analysis of human use impacts on wildlife population and habitats was key to evaluating the effects of the development and cumulative effects on wildlife.
A key requirement in the EIS's Terms of Reference is an alternative analysis. This looks at key questions such as, what if you build the project this way instead of that way? This analysis informs project design. Golder and TSMV have been going back and forth on how a development project on these lands could look, especially in the context of the location and type of development and the mitigation applied to the project, such as fencing, used to reduce adverse environmental impacts.
The EIS Third-Party Reviewer had concerns with the uncertainty of using a fence. What strategies do you have in place if it does not allow for the proper movement of wildlife?
The development and implementation of an Adaptive Management and Monitoring Plan outlined in the EIS and is to be developed prior to Conceptual Scheme approval. The plan will evaluate the efficacy of the fence for excluding large mammals from the ASP footprint and improving compliance with existing regulations in wildlife corridors. The plan will be designed to monitor changes in use of wildlife corridors by people, off-leash dogs, and large mammals and changes in negative human-wildlife interactions.
The Adaptive Management section of the EIS outlines the approach to adjust mitigations and monitoring over time, if and when necessary. The identifications of metrics, targets and threshholds within the Adaptive Management Plan will allow for the evaluation of data against unexpected outcomes. Adaptation is not always necessary, however if monitoring identifies important changes from the predictions in the EIS, then it would be explored. This could include adjusting fence construction design, implementing habitat improvements within wildlife corridors or other solutions deemed appropriate.
While the Third-Party Reviewer did not always agree on the degree of impact predictions outlined within the EIS, they did agree with the suite of recommendations outlined including education, attractant management, inclusion of recreational elements within the development area, monitoring and adaptive management.
Wildlife movement, conflict with humans and mitigation efforts are important issues to tackle as we continue to balance growth and conservation in Canmore. The provincially approved wildlife corridors are a critical component of TSMV's development projects and are important for Canmore and its residents. TSMV has invested millions of dollars to have experts collect and analyze data on how wildlife travel through the corridor system.
What impact will this have on taxes?
TSMV's development is planned to meet Canmore's future market supply and demand, based on modelling and a Commercial Market Needs Assessment done by Altus Group and informed by Town of Canmore policy direction.
According to a Municipal Fiscal Impact assessment, this project represents an opportunity for the Town to grow in a fiscally sustainable manner. It provides an opportunity to reverse a recent trend in the community of a diminishing share of non-residential assessment and return to an assessment split last seen in 2010. The project aims to shift non-residential values from 18 per cent to 28 per cent of Canmore's total assessment. It will create areas for economic development and diversification for Canmore's business community to operate within and serve the broader community.
Who will pay for the wildlife fence? Who will maintain it?
The developer would pay for installation, long-term maintenance is undecided. The Town of Canmore has indicated a desire to assume responsibility long-term as a piece of public infrastructure.
Canmore currently has 6 schools. How do we double the population with only one K-12 school site proposed?
The decision whether a new school gets built or not would be determined in later stages and would be at the discretion of the Province and the Town of Canmore. Having heard from the Town and community members that these are amenities Canmore wants, TSMV has set lands aside in the planning to accommodate these needs in the future.
School sites, number and locations are generally a direction of the Town after consulting with the various school boards. The developer is not involved in these discussions. It is up to the Town as to how they allocate their municipal reserves provided by the developer, and current indications from the Town point towards Smith Creek given the existing schools in Stewart Creek, the intended localized nature of Smith Creek and the broader Three Sisters Village uses.
Would off-site levies pay for an upgraded Bow River Bridge considering the impact of adding 10,000 to 15,000 additional residents on the south west side of the river?
An offsite levy is a mechanism for municipalities to recover capital costs incurred for infrastructure improvements for new development or growth. It is the Town of Canmore's call on how to use these levies. The Town has advised that they do not wish to upgrade or widen the Bow River Bridge for a number of reasons, and the TIA has responded to that direction through a design that directs most vehicular traffic towards the TransCanada for access to other areas of Canmore. Current traffic monitoring data provided by the Town of Canmore supports this direction, as this is what most residents of the existing areas of Three Sisters are already doing.
The project will result in many on-site and off-site improvements. Some of these will be paid for through off-site levies and others will be completed by TSMV. In response to community feedback, a list of all improvements related to transportation/multi-modal infrastructure will be made available.
Who pays for the ongoing wildlife monitoring?
TSMV pays for wildlife monitoring as outlined in the EIS, however, the Province and others also undertake wildlife monitoring in the area using their own resources.
What is the proposed population of this entire project?
The projected population is 14,500 for all units proposed within Three Sisters Village and Smith Creek at 100 per cent occupancy. Canmore's ultimate build-out plan is to a population of approximately 34,000.
How do the proposed unit counts in the draft ASP's for Three Sisters Village and Smith Creek relate to the 1992 Natural Resources Conservation Board (NRCB) ruling?
The NRCB ruling allows for 8,510 units on lands impacted by the decision. The draft ASPs propose a range between 6,405 and 9,100 units, which includes all the units previously built on applicable TSMV lands. If the maximum number of units in the proposed range are built, the resulting unit count could be about seven per cent higher than the NRCB allows. While the actual number of total units built would be ultimately determined by built form and other factors, units built over the minimum allowed would support higher density, leading to additional affordable housing opportunities and more climate resilient neighbourhoods. Since past agreements, including the 1998 Settlement Agreement, no longer apply to TSMV, the NRCB decision remains a key document for total unit counts. Learn more here.
TRANSPORTATION AND MOBILITY
What changes, if any, are planned for Three Sisters Parkway to avoid congestion?
The future improvements for the Three Sisters Parkway are not intended to strictly avoid congestion or provide free flow automobile movements at all times of year and conditions. The focus of the ASPs and the TIA is to increase the modal split of people walking, biking and using transit for their needs. Changes to the Parkway that would solely expand automobile vehicle capacity is not envisioned. There would of course be intersection upgrades (e.g., traffic signals, roundabouts, intersections, etc.) as needed.
Both the Three Sisters Village and Smith Creek draft ASPs identify a network of cycling connections and pedestrian corridors and routes that create walkability and a highly-bikeable environment. Both draft ASPs also outline a public transit route through each neighbourhood with frequent stops.
What efforts will be done to preserve existing mountain bike trails (e.g., Loki, Guy Lafleur)? Will user groups be involved in the creation and maintenance of these trails?
Mountain bike trails within the planning areas for both Three Sisters Village and Smith Creek are a priority. However, most trails will be relocated after construction is complete. As we move forward with development, TSMV plans to include recreational trails (including mountain bike trails) and commuter pathways. Once development of the area begins, TSMV will work with CAMBA to move or reroute existing trails in the area.
The Province is the decision maker on trails within the corridor. TSMV will work with the Province, Canmore Trail Alliance and CAMBA to ensure that trail planning balances trail experience with the number one priority—wildlife movement. It will be a delicate balance to ensure that the right trails are approved so that illegal trail use and creation are not a problem for future wildlife movement.
How will gridlock and congestion downtown be addressed?
Canmore's downtown road network is the responsibility of the Town of Canmore. Phasing and timing of upgrades downtown will depend on development staging, other Canmore growth and Town programs to modify existing intersections. Offsite levies from developers is an option to support these upgrades.
TSMV's Transportation Impact Assessment shows that remaining development, as planned in the ASPs, can result in a multi-model transportation system that operates at an acceptable level of service, including a transit network and trails that connects residents and visitors within the area and other parts of Canmore, to help alleviate congestion.
Will the trails/sidewalks provide opportunities for people in wheelchairs, walkers etc.?
Yes. There will be trail experiences and connections for a variety of users. Not all trails will be wheelchair accessible, just like not all existing trails throughout Canmore are today, but connectivity for all users through a system of trails is part of the ASPs.
How will building more support a reduction in emissions?
The Town of Canmore has established clear targets to reduce community and corporate emissions by 80 per cent below 2015 levels by 2050. The ASPs policies are developed in alignment with the Town's target. This includes a multi-modal transportation system to encourage walking, biking and transit to reduce the number of trips by cars. The other approach in the ASPs is encouraging building practices that minimize environmental impacts. It will be important that the entire community, including the Town of Canmore, residents, businesses, visitors and development industry work together to make a meaningful difference on climate change.
Three Sisters Village ASPs uses land use, community design, and a pedestrianized village to shift visitors to more sustainable modes of travel once they arrive. The intent is to get them out of their vehicle if they've driven up to visit Canmore for the day, then walk and bike within Three Sisters Village and prioritize biking and transit to travel from Three Sisters Village to other areas of Canmore such as downtown. In Smith Creek, a dedicated bike lane will also be along the parkway connecting to other recreational trails in and around the neighbourhood and presenting an opportunity to be integrated within the transit system of Canmore, as it continues to grow.
Will builders not create net-zero homes without an incentive?
Building and energy codes are evolving at a rapid pace on a national level. The Federal Government is targeting to have all new buildings achieve Net-Zero Energy Ready by 2030. It's important to recognize that prior to 1941, Canada's municipalities attempted to regulate the details of construction, plumbing, electrical, fire safety, and life safety within buildings, and predictably resulted in a multiplicity of regulations being developed over time as each municipality tried to deal with its own needs. These variations from one municipality to the next made it very difficult for designers, product manufacturers and contractors to conduct business in more than one region. It was also very difficult for national programs supporting housing and other construction work to be implemented.
Accordingly, due to all the problems with individual municipalities attempting to do local regulations on buildings, in 1941 the first National Building Code was published and has been continuously updated since. It is not within the regulatory ability of the Town of Canmore (or any private developer) to mandate or require variations from approved building, plumbing, fire, electrical or similar codes in Alberta, and so incentives are a way to encourage builders to undertake initiatives like Net-Zero earlier than Federal timelines.
While Canada moves forward in energy transition efforts and climate change adaptations, health, safety, accessibility must still be considered and evaluated against new innovations in buildings to ensure that new buildings are protected from fire or structural damage, provides safe egress and fire facilities, safe use of combustible materials, mold damage, water and sewer damage and other factors. The Federal government established a target of 2030 so that all considerations can be addressed properly within the code system, and code updates are becoming more frequent accordingly.
The Town of Canmore's Land Use Bylaw requires new buildings be built to standards above the Alberta Building Code and as a result this ASP focuses on moving the standard closer to Net-Zero Energy Ready by incentivising development. Builders in Canmore have long been market leaders within initiatives like BuiltGreen, and we know that they respond well to market demand. However, they do need to also build safe homes and businesses, so some innovations may need building codes to catch up with them before implementation.
Will green building standards change the look of existing architecture in Canmore?
There are already green building standards within the Town's Land Use Bylaw, and some green initiatives, including Net-Zero considerations, may need some aspects of building designs to respond to those initiatives or provide supporting elements as needed. The Town has a set of Architectural Guidelines already in the Land Use Bylaw that guides the look of new buildings, and this review is undertaken at the Development Permit stage.
Any plans for innovative building designs (e.g., solar, energy efficiency, etc.) to be a leader in climate change adaptation/energy transition efforts?
Building practices that minimize environmental impacts are important to us. Linking the concept of sustainable development to climate change provides an opportunity to address and promote long-term environmental change at a local, regional and national level. The Town of Canmore has established targets to reduce community and corporate emissions by 80 per cent below 2015 levels by 2050.
TSMV welcomes all future builders to explore innovative building designs. These discussions are generally undertaken at the Development Permit stage with the Town of Canmore (they are the regulator for issuing building permits and approving development permits). There are several incentives for bonussing in the ASP policies that support and encourage innovation at the Development Permit stage. However, there are currently regulatory considerations discussed in question 1 under ENVIRONMENT that play a role in future building innovations.
We are seeing tremendous pressure on existing community parks (e.g., Quarry Lake). What is the responsibility of the developer to create similar attractions so that the development does not add to the current use?
Many new municipal parks and open spaces and recreation opportunities are outlined in both ASPs, and the proposed uses within those areas are discussed with the Town of Canmore during future land use and subdivision applications. The municipality uses their own Recreation Needs Assessment to guide their decisions, it is located here.
Will the new developments be built to conform to FireSmart guidelines?
TSMV has been working collaboratively with the Town of Canmore and the Province of Alberta for many years and already undertakes Wildfire Risk Assessments for subdivision applications. Wildfire risk is also a subject of proposed policies in both ASPs. The Town also requires wildfire assessments at more detailed stages of approvals like Development Permits, and has a Wildfire Mitigation Strategy being used today for all developments in Canmore that can be found here.
Can you confirm there will be no single-family homes in Three Sisters Village, only in Smith Creek?
There will be no single-family homes and very little semi-detached homes in the Three Sisters Village ASP area and a mix in Smith Creek. Three Sisters Village will cater to the missing middle form of density: townhomes, stacked townhomes and apartments.
Most of the project's housing mix will be 'attached form' which are housing forms promoted by the Canmore Housing Assessment and the Municipal Development Plan in Canmore. In Smith Creek, single- and semi-detached units will be required to have secondary suites or be suite ready, with an intent to increase attainability for purchasers (suites as mortgage helpers), as well as increase the number of rental suites in the community. Secondary suites are identified in the Housing Needs Assessment's as a recommended strategy to pursue to increase the supply of rental housing as well as supporting affordable home ownership.
Is the housing deemed affordable?
This project represents an opportunity to address socio-economic concerns currently in the community, including increased housing supply with additional Canmore Community Housing units to improve the rental and ownership market. The ASPs facilitate housing affordability by providing housing options that cater to a variety of needs. Three Sisters is proposing to incorporate 10 per cent of all multi-residential units as PAH (ownership and rental), encourage rental housing, build employee housing and require units to be suite ready to increase the rental supply. The project design in the TSV also lends itself to the creation of numerous units qualifying as entry-level housing such as apartments and stacked townhomes.
The high cost of living in Canmore currently puts added pressure on social and health services and makes employee recruitment and retention challenging in many sectors including the health, education and social services sectors. The increased availability of affordable housing would be expected to strengthen social cohesion in the community by allowing more of those working in the community to be able to also live in the community. See the next question for an overview of Perpetual Affordable Housing (PAH) numbers proposed.
Could you please clarify your PAH numbers?
TSMV is using a variety of tools to make a 20 per cent commitment to affordable housing throughout Three Sisters Mountain Village. This includes a 10 per cent commitment to affordable housing (i.e. Vital Homes program). In addition, TSMV has made commitments to build a minimum of 350 employee housing beds. To ensure that there is a variety of tenures offered in Canmore now and into the future, there is a commitment to ensure that a minimum of 200 market rental units will be built within Three Sisters Mountain Village. The approval of the Smith Creek ASP will also facilitate the provision of Community Lands to the Town of Canmore for the purpose of affordable housing in exchange for road right-of-ways (approximately 2.32 hectares) that could accommodate 100-200 affordable housing units. In addition, all single- and semi-detached units in Smith Creek will be required to be "suite ready" allowing homeowners to easily build Accessory Dwelling Units that are compliant with the Alberta Building Code. TSMV has also enabled Accessory Dwelling Units in Townhomes for both ASP areas.
COMMERCIAL/ECONOMIC DIVERSIFICATION
What is commercial is being proposed? Will it complement downtown or be self-contained?
Commercial uses envisioned for Three Sisters Village and Smith Creek will be a different mix that will complement the retail and commercial characteristics of downtown Canmore. It will support the outdoor lifestyle brand of TSMV and provide a range of amenities to residents and visitors such as food and grocery, general merchandise, hospitality and more. The addition of non-residential land will reduce the excess demand for commercial and light industrial uses and allow for the growth of local companies.
Proposed development of commercial space will be warranted in the short-to-long-term given market conditions, forecasted population, income and expenditure potential growth and existing and future commercial inventory.
Three Sisters Village will include:
up to 220,000 square feet of office and light manufacturing
lands for up to 188,000 square feet of indoor recreation and entertainment
up to 380,000 square feet of retail, restaurant, spa and health amenities.
Additionally, Smith Creek will include:
Up to 74,000 square feet of light industrial and business space
Up to 125,000 square feet of central retail and commercial area for local services
A network of sidewalks, multi-use pathways, trails, including mountain biking trails, will connect Three Sister's Village and Smith Creek to other areas of Canmore, including downtown.
Will there be a grocery store?
A grocery store is already planned for and being actively worked on within the commercial lands by Three Sisters Boulevard and Three Sisters Parkway. This land is within an approved ASP and is already zoned to allow for a grocery store. If you have driven past this intersection, you may have noticed some activity on the northeast side of the road. TSMV is now completing geotechnical and undermining work to inform an upcoming development application. This area is within the existing Stewart Creek Area Structure Plan and TSMV is getting ready to move forward with that commercial development.
Is TSMV working closely with educational institutions in Alberta to encourage them to base in here?
Yes, TSMV is currently exploring opportunities with educational institutions, but these efforts are preliminary and would be more focussed should the ASPs move forward.
Any consideration for artist studios/creation spaces?
Yes, including policies to include opportunities for them on commercial streets and within the Innovation District in the Three Sisters Village ASP proposed. Creation of an Innovation District that will provide flexible spaces for residents to explore creative new ways to generate community wealth that may not be envisioned today within Canmore's land use bylaw or other places within the town. This is the opportunity to create innovation that is made in Canmore.
The ASPs also speak to public art and wayfinding throughout the development, that will guide people's interaction with the surrounding community and environment; along with inspired spaces for social gatherings, cultural facilities, and festivals. The developments will have a positive effect on arts and culture in Canmore. It would expand the already broad range of arts and culture amenities in the community and the customer base for all arts and culture businesses, activities and events.
SAFETY – UNDERMINING AND STEEP CREEKS
How is existing development impacted by Three Sisters Creek?
The Town of Canmore has undertaken over 7 years of studies with respect to Three Sisters Creek and potential impacts to existing developments. That work can be found here. TSMV and the Town have continued to work together on updated Steep Creek work, including Three Sisters Creek, and are anticipating to jointly work together on mitigations to address existing development (the Town) and future development (TSMV). Some mitigations are dependant on the specifics of the Three Sisters Village ASP; mitigation work for future development would be dependant on the ASPs moving forward.
Who is liable when it comes to undermining?
Just like all work undertaken by professional engineers—bridges, structural design of buildings, geotechnical designs, and many other areas of engineering—public safety is always a prime consideration. It is not reasonably possible to specify in advance who is liable should an issue arise on any engineered works, as liability determination would depend on many factors. Professional Engineers are licensed in Alberta by APEGA, and they require that the health, safety and welfare of the public be held paramount.
In 2020, the Province of Alberta updated the Canmore Undermining Review Regulation (AR34/2020), and specifically updated insurance requirements with respect to liability in Section 10(1) of AR34/2020. The Guidelines also significantly updated risk considerations so that the requirements for undermining are now more aligned with other hazard risks like Steep Creeks, and all undermining reports are reviewed by an independent third-party professional engineer (a unique requirement for undermining).
The original regulation from 1997 successfully allowed for significant development in Three Sisters Mountain Village over nearly a quarter century without detrimental undermining impact. Over 1000 homes and a school have all been safely developed on undermined land.
There have been with two notable exceptions. Those exceptions include damage to undermining mitigation along the Three Sisters Parkway resulting in a roadway failure, and subsidence of a pathway over an airshaft forming a sinkhole near Dyrgas Gate. Both failures involved water lines which likely ruptured due to settlements, contributing to the failures in the mitigation. The updated guidelines address these failures by requiring a higher standard of mitigation for pathways and roads, and a standard for deep utilities that is equal to the high standard for building structures.
The Town of Canmore has its own Indemnity Agreement with the Province of Alberta that addresses liability from future claims against the Town of Canmore or its agents, as identified in Alberta Regulation 112/1997. An FAQ for more information on undermining can be found here.
Wasn't the golf course originally approved because you can't build on that land because of undermining?
No. Undermining mitigations consideration was only one element of the plan outlined in the 2004 Resort Centre ASP. Many factors were a part of that plan over 15 years ago, including now outdated wildlife considerations, market forces, golf course business viability, presence of vertical mine workings along the south edge of the ASP area, viewsheds, market desire for development near golf courses as an amenity and several other business factors.
Golf course viability is declining substantially throughout North America, as the sport is declining in popularity. Having another golf course inside Canmore is no longer a viable business opportunity. Many golf courses throughout North America are now being redeveloped due to their inability to maintain viable operations. While the unfinished golf course was never completed or operated, it is no longer viable to attempt to finish the golf course and operate it.
As TSMV has now completed dedicating over 1,600 acres of private lands to wildlife corridors (representing over 60 per cent of TSMVs private land holdings), the remaining lands are now being proposed for a variety of developments, including new parks and recreations spaces within the unfinished golf course lands.
Does development include a firehall and other public services?
Town of Canmore has a Fire Hall Study Summary Report that identifies two future fire hall sites in Canmore. In 2019, Canmore Town Council approved a plan to construct a new 8-bay fire hall in the near the intersection of Palliser and Benchlands Trails. This project is currently in the design phase. Another has been identified in Three Sisters Mountain Village outside of the two draft ASPs. Timing of this additional fire hall is undetermined, as the focus is on the first new fire hall in Palliser.
Is indoor recreation intended to be privately run or publicly?
Indoor recreation facilities within the Three Sisters Village ASP could be either private or public.
What is the combined footprint of Three Sisters Village and Smith Creek?
Three Sisters Village ASP encompasses 169 hectares of land and Smith Creek ASP encompasses 154 hectares of land.
In the area to the east of Three Sisters Creek, behind Miskow Close and Hubman Landing, can you tell us more about the vison for the playing fields, access roads and parking?
These details are not currently available, as they would be the subject of discussion at future stages of approval like land use and subdivision. A Steep Creek Assessment Update is being used to inform planning considerations. Property on the eastern side of Three Sisters Creek is currently proposed to remain as recreational greenspace. Minor buildings such as bathrooms or trailhead facilities may be constructed in the future, along with recreational amenities including pathways.
Likely, the use of these lands would also include steep creek mitigation works to protect existing developments, but no mitigation detailed designs are available yet. The Town of Canmore and TSMV are working jointly to determine mitigation measures so the work can be jointly undertaken.