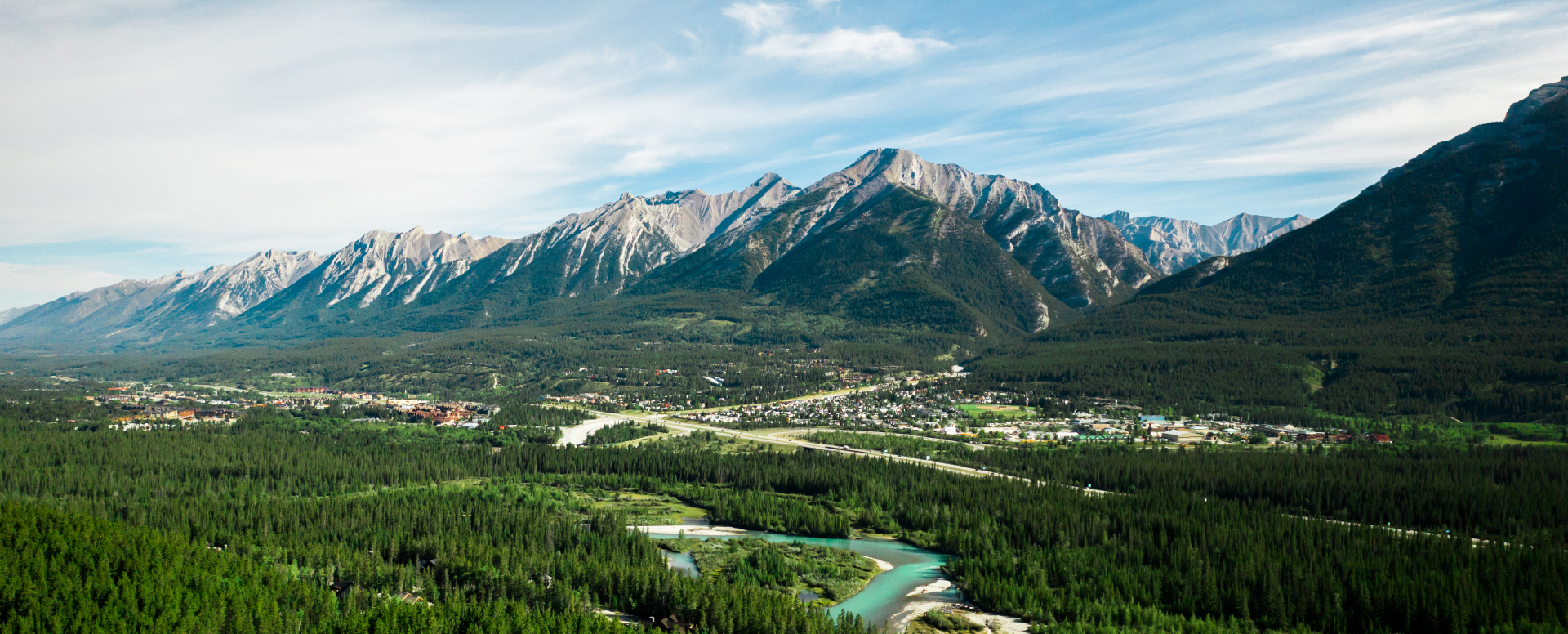 Approved Smith Creek Wildlife Corridor decision provides clarity for TSMV, Canmore council and community members
We are pleased to share that the Government of Alberta has approved our amended application for the Smith Creek Wildlife Corridor. The specific focus has been to provide a functional corridor in Smith Creek. Smith Creek is a key part of the corridor system for wildlife to travel between the Wind Valley and around the south side of Canmore to other prime habitat areas.
TSMV is committed to delivering on the recommendations outlined in the corridor approval, including habitat enhancements within the Smith Creek Wildlife Corridor, a plan outlining the development of crossing structures, ongoing participation in local WildSmart initiatives and continued coordination of FireSmart planning with municipalities and the Province.
The Government of Alberta's decision provides Three Sisters Mountain Village (TSMV) and the Town of Canmore with clarity needed on the final piece of the corridor system. The decision represents the largest addition to designated corridor lands since the approval of the Along Valley Corridor in 1998.
In our approved application, Three Sisters addressed previous feedback with a realignment of the Across Valley Corridor to place it over an area with creeks, and add another wildlife crossing of the Trans-Canada Highway that leads to habitat around the Bow River. Another feature of our approved proposal is the significant widening of the existing 1998 Along Valley Corridor and the protection of a prime wetland feature.
Roughly 70 per cent of TSMV-owned lands in the Smith Creek area have been set aside for the wildlife corridor. Three Sisters included 412 acres of privately-owned land within the approved proposal, leaving approximately 172 acres currently owned by Three Sisters available for development north of the Smith Creek Along Valley Corridor.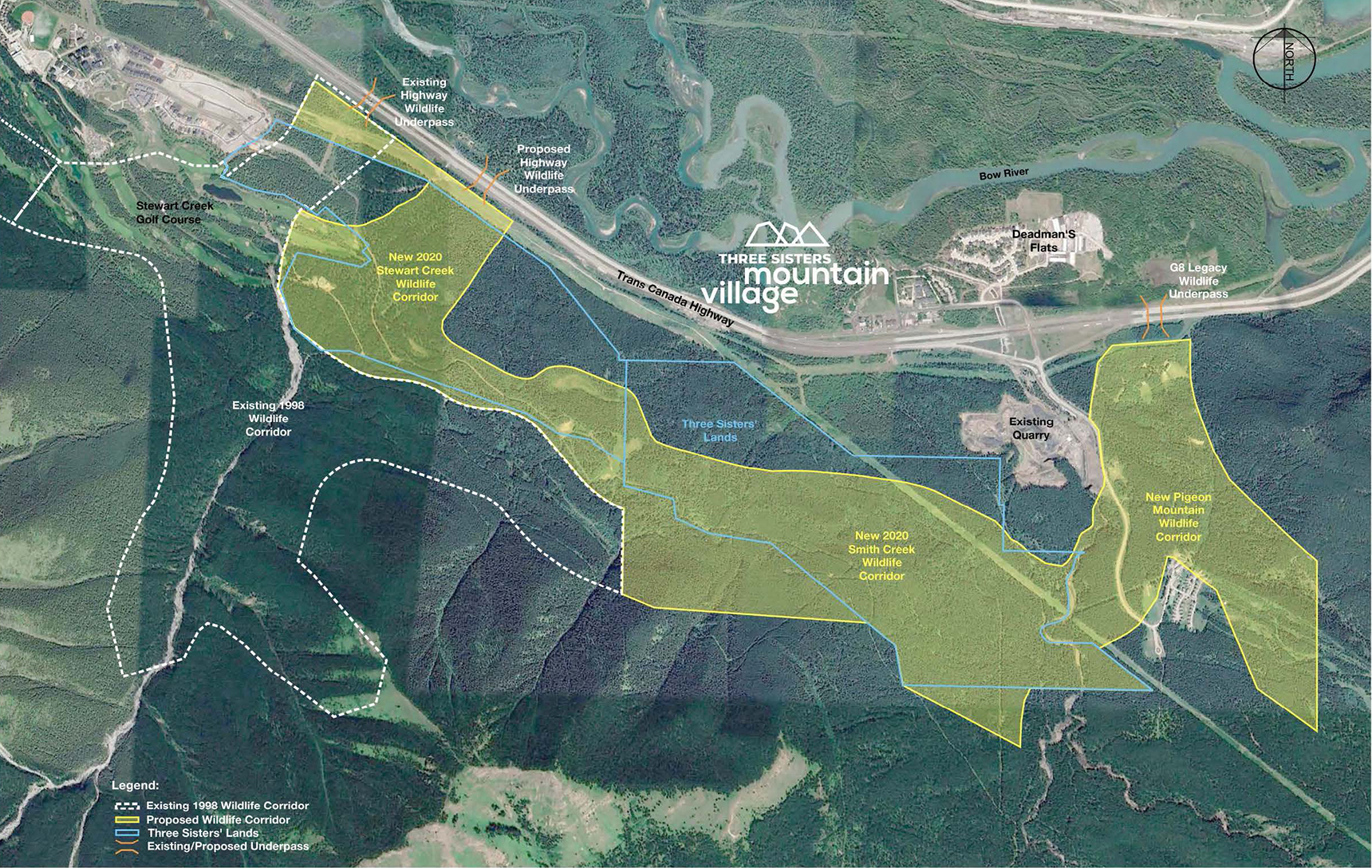 More than 60% of the original land holdings for the Three Sisters project set aside for habitat protection
The existing corridor, with the newly approved Smith Creek Wildlife Corridor added, means that TSMV will set aside more than sixty per cent of their privately-owned land—1,500 acres—to be dedicated to improving connectivity for elk, deer, cougars, wolves and bears. One acre of land is equal to a small regulation soccer pitch—try to envision 1,500 of those. It's equivalent to three-quarters of the Canmore Nordic Centre Provincial Park lands.
The approval by the Province recognizes the wealth of peer-reviewed data available, stretching back to the late '80's. There have been teams of scientists working for various academic, government and commercial agencies conducting field work to understand how wildlife use the space.
"Understanding the corridor and how it is used is very important to Three Sisters as we consider the future development of our land. In fact, we invested over $5 million on expert-led monitoring programs to inform our planning and application to the Government of Alberta," says David Taylor, Chairman, Three Sisters Mountain Village.
This monitoring included in-field camera programs run by wildlife professionals, which were in place from 2009 to 2017. Three Sisters also has 15 years of GPS tracking telemetry, field tracking and wildlife trail use counts.
"The Province has made a thoughtful decision based on scientific data collected for many years by multiple agencies showing where wildlife movement occurs," says Taylor.
Understanding the boundaries of the Smith Creek Corridor is critical for Canmore Council, community members and TSMV when considering how development in these areas can proceed; and to be able to plan for development through an Area Structure Plan. TSMV is currently pursuing two Area Structure Plans: Three Sisters Village (formerly "Resort Centre") and Smith Creek. These ASPs will also address some of the feedback received through community engagement, including the importance of mobility options, affordable housing, economic diversification and commercial space.
"We have had lots of meaningful conversations in the community. We believe there is a vocal population in Canmore that supports ongoing and sustainable development. What we've heard, time and time again in our community engagement, is 'do the development, but do it properly,'" says Taylor.
Wildlife was always the biggest concern raised throughout engagement. The community wants to make sure that development provided a corridor for wildlife movement. They asked for a functional movement corridor backed by independent science-based review that is provincially approved—that's what the province has delivered.
Human use management around wildlife requires the collaboration and commitments of everyone in the Bow Valley as well as the provincial and federal agencies. The Bow Valley Human-Wildlife Coexistence Technical Report is a great example of multiple agencies working together to develop actionable solutions on how to manage these lands—this is an all-hands-on-deck approach. In addition, the Government of Alberta plans to build a wildlife overpass to reduce wildlife-vehicle collisions on the Trans-Canada Highway east of Lacs des Arc. Three Sisters will also be planning additional crossing structures.
"Three Sisters Mountain Village has long been a leader in many of these areas and continues to support this work with our own activities on TSMV land," adds Taylor.